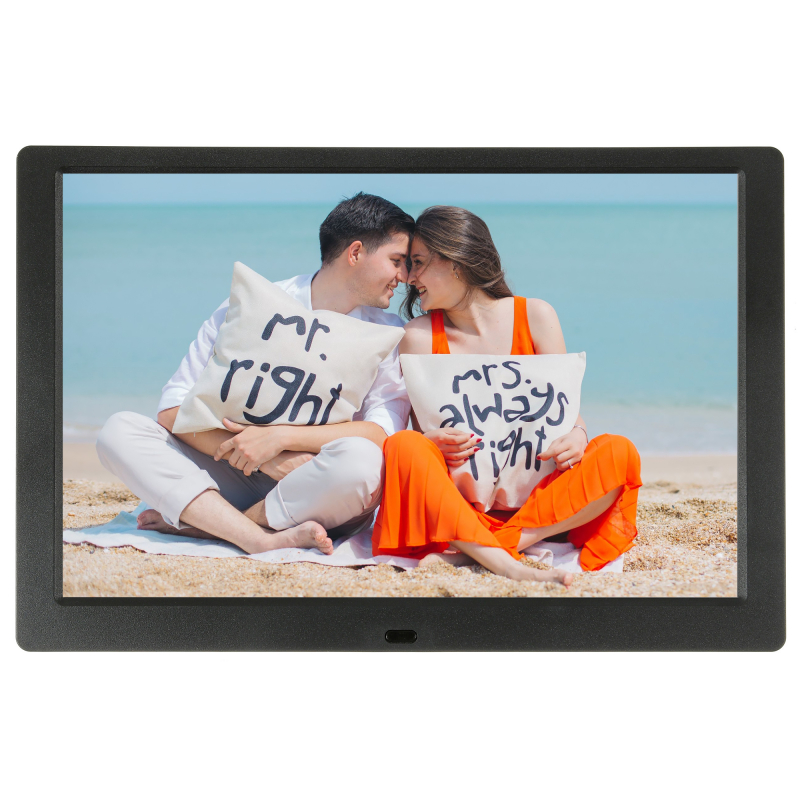  
BRAUN DigiFrame 1095 (10.1") 8GB
incl. VAT + shipping
Tax included
Delivery time depends on destination country
High-quality digital picture frame with internal 8GB memory and large 10.1" IPS screen for
displaying digital photos, video clips (supports 1080p FullHD video) and MP3 music files.
LED backlight technology for a brilliant presentation. Auto On/Off, HDMI in, Audio out
Quick and safe PayPal payment

Free shipping for EUR 30+ orders (Germany)

International Shipping (EU)

Secure SSL data transmission

High Quality Digital Picture Frame with Fully Equipped Multi Media System and 8 GB Storage





BRAUN presents their DigiFrame 1095 8GB not only for your favorite photos, but also for video clips in Full HD quality





+++ Internal 8GB storage +++ 10.1" (25,65 cm) IPS Display with LED Backlight Technology +++ High-grade 1280 x 800 resolution & 16:9 optics +++ Video function +++ integrated speakers +++ Headphone jack +++ Audio out +++ Remote Control  +++ Kensington Theft Protection +++ Clock/Calendar Feature +++

Looking to save your most precious moments as a living memory? With a digital picture frame you can review the snapshots of your summer holiday, or review your favorite family pictures as often as you like. Not only photos are presented in a resolution of 1280x800 pixel in a 16:9 format, but the compact Digiframe 1095 also plays full HD videos (up to 1080p) in MPEG1, MPEG2, MPEG4-, M-JPEG und AVI format.
Thanks to integrated loudspeakers and the Audio Out/Headphone Jack (For MP3 and WMA); this digital picture frame has rapidly been promoted to a genuine Multimedia Station. The versatile picture frame offers a slide show feature that can be combined with background music.
The Braun DigiFrame 1095 8GB conveys elegant optics with its black acrylic design, as well as the high quality, digital 10.1"(25,65 cm) IPS display with LED Backlight Technology, giving a luminous image representation, excellent lighting and outstanding color sequencing at a large energy efficiency. The successor model of the DigiFrame 1093 also offers an 8GB internal storage, so that large Full HD videos can be played and presented without problems. External storage sources on the DigiFrame 1095 are an SD card slot (SD, SDHC, MMC und MS) and a USB 2.0 slot for USB sticks.
The user-friendly menu as well as the included IR remote control offer intuitive controlling of brightness and contrast, clock/calendar function as well as start modus (Photo/Video/Music). Switch On/Off can also be pre-programmed, and as soon as the BRAUN DigiFrame 1095 is connected to power, the device starts up automatically.
With its large internal 8GB storage space and the Kensington Theft Protection, the frame is ideal for use as a POS.



Data sheet
Display Type

IPS

Display Size

10.1" (25.65 cm)

Internal Memory

8 GB

Audio (Output)

3.5 mm Jack (Stereo)

Resolution (Video)

1920 x 1080 px

Screen Resolution

1280 x 800 Pixels (16:9)

File Format (Audio)

MP3, WMA

File Format (Pictures)

JPG

File Format (Video)

AVI, MPEG1/2/4 (DivX 4.0/5.0, XviD) and M-JPEG

Slideshow function

Yes

Antitheft

Kensington Lock

Built-In Speakers

yes

Remote Control

included

Format

Portrait and Landscape view

HDMI (In)

yes

Card Slots

Languages

multi language

Power Supply

100-240V/50~60 Hz) 12V/1-2A

Clock/Calender Function

yes

USB port

USB 2.0

VESA Compatibility (Mounts)

50 x 75

Measurements (approx.)

273 x 186 x 23 mm

Weight (approx.)

440 g

Scope of Delivery

DigiFrame, Remote Control, AC Adapter, User's Manual

EAN Code

4000567212607

Video function

Yes

IPS Display

Yes

Audio Out

Yes

HDMI

Yes

Anti Theft (Kensington)

Yes

Display Format

Landscape

Internal memory

Yes

Display format

16:9
You might also like