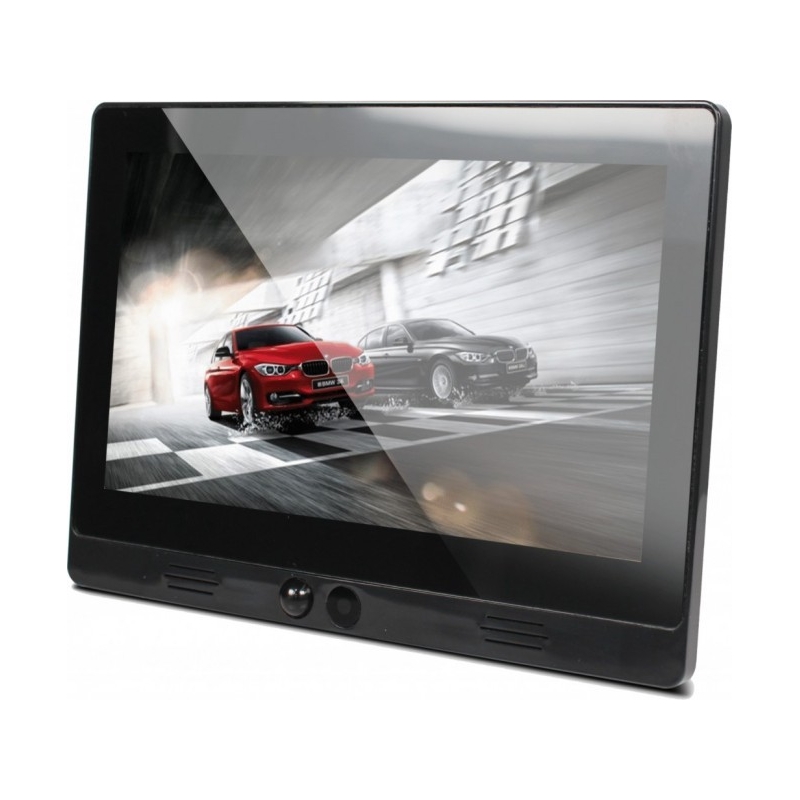  
BRAUN DigiFrame 10.1 Motion
Tax included
Delivery time depends on destination country
incl. VAT, excl. shipping
High Quality Digital Picture Frame with installable housing for POS solutions, with motion sensor and high resolution display. Built-in stereo speakers, HDMI connection, USB and SD compatible, headphone jack/audio out. VESA, Kensington lock. Size 25,65 cm (10.1"), 16:9, to present digital pictures, videos in full HD (1920x1080p), MP3 and AAC files.

Quick and safe PayPal payment

Free shipping for EUR 50+ orders (Germany)

International Shipping (EU)

Secure SSL data transmission
+ + + Display sizes 7" (17,78 cm), 10.1" (25,65 cm) and 17" (43,18 cm) + + + Photos and videos in full HD quality (1920x1080p) and 16:9 size mode + + + Stereo front speakers + + + Stereo audio/headphone output + + + HDMI connection + + + Remote control + + + VESA Compatibility + + +

A digital picture frame allows one to present photos as well as advertising messages in style. Devices of the latest generation now also play almost all formats of videos and music, and are increasingly getting morphing into multimedia stations. This also applies to the three new models of Braun Phototechnik GmbH. The Braun digital picture motion frames not only present digital photos, but also play videos in full-HD quality (1920x1080p) and feature two built-in stereo front speakers as well as a 3,5 mm headphone/audio output for connecting headphones or external speakers.
Thanks to the LED backlight, the picture frames achieve excellent color reproduction with high energy efficiency and, in combination with the built-in motion sensor, provide the ideal solution for the targeted use for advertising messages at the POS. The high-resolution displays in sizes 7" (17,78 cm), 10.1" (25,65 cm) and 17" (43,18 cm) replay the pictures and videos in the 16:9 format, have a contrast ratio of 500:1 and a good viewing angle of 130 ° (h) or 110 ° (v). The DigiFrame Motion series can easily be connected to other input sources using the built-in HDMI connector.
The data source can be an SD card slot, a USB 2.0 host as well as an HDMI and AV connection. The new Braun frames feature auto-start, auto-play and auto-repeat function as well as a remote control. The DigiFrame Frame Motion series features VESA compatibility and Kensington anti-theft protection.
Braun is one of the largest providers of digital picture frames and in recent years has also made a name for itself in the B2B sector with professional hardware solutions for the Point of Sales (POS).
High quality photo frame in an installable housing design for the POS area with Motion sensor and high-resolution 10.1" (25,65 cm) display with 1024 x 600 pixels (16:9). For presenting digital photos, Full HD videos (1920 x 1080 pixels), MP3 and AAC files.
•  High-quality digital 10.1" (25,65 cm) TFT/LCD screen with LED backlight technology
•  resolution 1024 x 600 pixels (16:9), brightness 200 cd/m² (NIT), contrast 500:1, viewing angle 130°(H) / 110°(V)
•  Motion sensor
•  IR remote control and user-friendly OSD menu
•  Supports: SD card, Multi Media Card (MMC), USB memory sticks
•  Picture file format: JPEG, BMP, PNG
•  Menu languages: German, Italian, Russian, French, Hungarian, Portuguese, English, Spanish
•  Thumbnail mode, zoom functions, rotate images, adjust brightness, contrast, saturation
•  Video file format: MPEG1, MPEG2, MPEG4, H.264, RM, RMVB, MOV, MJPEG, DivX, max resolution 1920x1080p
•  Music file format: MP3 & AAC
•  Built-in stereo front speakers (2x1W), 3,5 mm headphone output
•  VESA standard
•  HDMI-in function
•  Picture display mode: slide show mode, slide show duration
•  Clock / Calendar function
•  Programmable power on/off
•  Auto-on function when power on

Max. picture quantity 999 shots
Support USB/SD Card with max. 32GB capacity
Dimensions: approx. 245 x 158 x 25 mm
Weight: approx. 420 g
Power supply: via 5V / 2A power adapter (100 – 240V / 50 ~ 60Hz)
Scope of delivery: DigiFrame 10 Motion, remote control, power supply, SD card slot protector for anti-theft, DC plug
protector for anti-tampering, mini HDMI to HDMI adaptor, operation manual, energy label
Art. No. 21422 / EAN 4000567214229


Data sheet
Display Type

LED-backlit LCD

Display Size

10.1" (25.65 cm)

Screen Resolution

1024 x 600 px

Antitheft

Kensington Lock

Built-In Speakers

yes

Full HD

yes

IR Remote Control

included

Contrast Ratio

500:1

OSD menu

yes

Memory Cards

SD / SDHC / MMC

USB port

Mini-USB / USB 2.0

VESA Compatibility (Mounts)

yes

Playback (Image)

Yes

Playback (Video)

Yes

Playback (Audio)

yes

EAN Code

4000567214229
You might also like