Online only
On sale!
-€54.00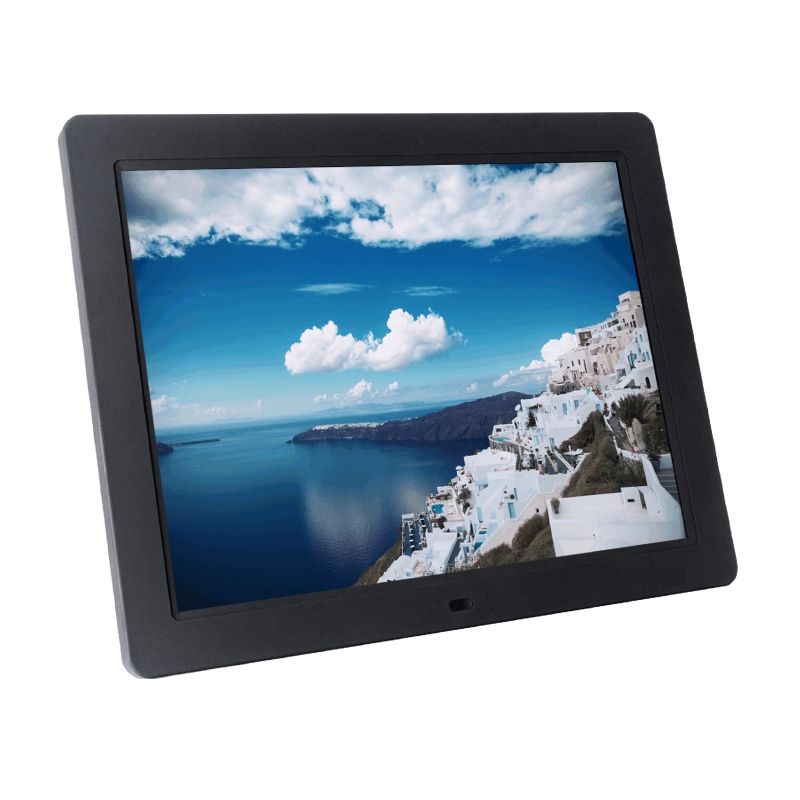  
BRAUN DigiFrame 1593 4GB Refurbished
Tax included
Delivery time depends on destination country
incl. VAT, excl. shipping
Refurbished items with slight packaging damage or minimal signs of wear.

All functionally relevant accessories are included.

The warranty is 12 months.
Powerful digital picture frame with a large, high-quality 15" (38.1cm) display to play your digital images, Full HD video clips and MP3 music files. With audio out and HDMI port.

Quick and safe PayPal payment

Free shipping for EUR 50+ orders (Germany)

International Shipping (EU)

Secure SSL data transmission
PC-independent digital photo frame in an elegant black design in 4: 3 format

+++ 15 "display +++ 4 GB internal memory +++ Scroll text function +++ HDMI in +++ Audio out +++ Built-in speakers +++

"In love with imaging" would be one way to describe the philosophy behind the BRAUN DigiFrame models with 12 "(30.48cm) and 15" (38.1cm). Thanks to the 4: 3 formats, you can display images in the best possible way without cropping or distorting them. This makes the 12 "model and the 15" models the exceptions in the versatile world of digital picture frames. The variety of design variations in the 15" models round off the impression that these DigiFrames are something special. With the new DigiFrame 1593 4GB, Braun is seamlessly building on its successful models DF 1590, DF 1591 and DF 1591 4GB and their strong features. The new DigiFrame 1593 4GB not only has the proven, internal 4GB memory, but now also completes its comfortable interior with an audio output for external speakers or headphones. Snapshots or the most beautiful family photos (in JPEG, BMP or PNG format) can also be accompanied by the appropriate background music. Automatic slide show playback can also be activated. With its internal memory and its cover for the inputs for SD card and USB stick as theft protection, the 1593 4GB is also suitable for presentations in the B2B area. The PC-independent picture frame in an elegant, matt black design is equipped with a high-quality, 15 "(approx. 38 cm) LCD with LED backlight in 4: 3 format. This means that images can be displayed without cropping. The 1593 perfects its properties with playback of videos in MPEG1, MPEG2 and MPEG4 format as well as the formats H.264, RM, RMVB, MOV, MJEPG, DivX. These can be played up to a resolution of 1080p (Full HD). In addition, the DF 1593 4GB via an HDMI input and is ideally equipped for the new generation of data. The DigiFrame 1593 4GB uses an SD card slot (SD, SDHC and MMC) and a USB 2.0 host for memory sticks as data sources. The comfortable and multilingual OSD menu navigation and the supplied IR remote control enable intuitive control of brightness and contrast as well as clock and calendar functions. The on/off time regulation can also be programmed. In addition, running text sequences can be integrated into the images with the ticker function. As soon as the picture frame is connected to power, the device starts automatically. In addition to the Kensington anti-theft protection, the DigiFrame 1593 4GB is VESA-ready (75x75mm) , making it equipped for wall mounting.

With the new DigiFrame 1593 4GB, Braun seamlessly builds on its successful DF 1590, DF 1591 and DF 1591 4GB models and their strong features. The new DigiFrame 1593 4GB not only has the proven internal 4GB memory, but now also completes its comfortable interior with an audio output for external speakers or headphones. Snapshots or the most beautiful family shots (in JPEG, BMP or PNG format) can also be backed up with the appropriate background music. Automatic slide show playback can also be activated. Due to its internal memory and its cover of the inputs for SD card and USB stick as theft protection, the 1593 4GB is also suitable for presentations in the B2B area.

The PC-independent picture frame in an elegant, matt black design is equipped with a high-quality, 15" (approx. 38 cm) LCD with LED backlight in 4:3 format. This allows images to be displayed without croabeing. The 1593 perfects its features with the playback of videos in MPEG1, MPEG2 and MPEG4 formats as well as the formats H.264, RM, RMVB, MOV, MJEPG, DivX. These can be played up to a resolution of 1080p (Full HD). In addition, the DF 1593 4GB has an HDMI input and is therefore ideally equipped for the new generation of data.

The DigiFrame 1593 4GB uses an SD card slot (SD, SDHC and MMC) as well as a USB 2.0 host for memory sticks as data sources. The convenient and multilingual OSD menu navigation as well as the included IR remote control allows intuitive control of brightness and contrast as well as clock and calendar function. The power on and off times can also be programmed. In addition, recurring text sequences can be integrated into the images with the scrolling function. As soon as the picture frame is connected to the power supply, the device starts automatically. In addition to the Kensington anti-theft, the DigiFrame 1593 4GB IS 4GB VESA-prepared (75x75mm) and is equipped for wall mounting.

•    High quality 15" (38,1cm) TFT LCD with LED-Backlight technology, Resolution 1024x768 Pixels (4:3), Luminance 200cd/m²,
•    contrast 600:1
•    IR remote control and easy to use screen menu
•    Supports different types of memory cards: Secure Digital Card (SD + SDHC), Multi Media Card (MMC) and USB memory
•    sticks
•    Picture file format: JPEG, BMP, PNG
•    Slide show mode with transitional styles and variable speeds
•    Video file format: MPEG 1/2/4, H.264, RM, RMVB, MOV, MJEPG, DivX
•    Supports Full HD Video (1080p, 1080i, 720p)
•    Music file format: MP3, AAC
•    Built-in speaker (2x1 W)
•    Including 4GB internal memory.
•    Calendar / Clock function
•    Auto-on function when power on
•    Adjustable start up modes (photo or music or video or photo and music)
•    Programmable power on/off
•    USB 2.0
•    HDMI in and Audio out
•    With cabinet lock hole, can be mounted to a wall. Supports VESA mounts (75 x 75 mm)
•    Card-Slot Anti-Theft Cover
•    Scroll-Text-Function
•    Multi-languages: German, English, French, Spanish, Italian
•    Default language: German

Max. Picture quantity 999 shots  
Support USB/SD Card with max. 32GB capacity
Dimensions: approx. 366 x 292 x 35 mm
Weight: approx. 1000 g
Power supply via AC/DC adaptor (110-240 V / 50~60 Hz) 12 V / 1.5 A
Scope of delivery: DigiFrame 1593 4GB, remote control, power adaptor, user's manual


Data sheet
Display Type

LCD LED
LED-backlit LCD

Display Size

15" (38.10 cm)

Internal Memory

4 GB

Audio (Output)

3.5 mm Jack (Stereo)

Resolution (Image)

1024 x 7681024 x 768 px

Resolution (Video)

1920 x 1080 px

File Format (Audio)

MP3

File Format (Pictures)

JPG/JPEG, PNG, BMP

File Format (Video)

MPEG 1/2/4, H.264, RM, RMVB, MOV, MJEPG

Auto Power/OFF

adjustable

Built-In Speakers

2x 1W

Full HD

Full HD Video (1080p, 1080i, 720p)

HDMI (In)

yes

IR Remote Control

included

Card Slots

Contrast Ratio

Luminance

200cd/m²

Landscape and Portrait Mode

yes

Aspect Ratio

4:3

Languages

multi language

Power Supply

100 – 240 V / 12 V / 1.5 A

Clock/Calender Function

yes

USB port

USB 2.0

Weight (approx.)

1000 g

EAN Code

4000567212430

Video function

Yes

Audio Out

Yes

HDMI

Yes

VESA

Yes

Display Format

Landscape
Portrait

Internal memory

Yes

POS suitable

Yes

Display format

4:3