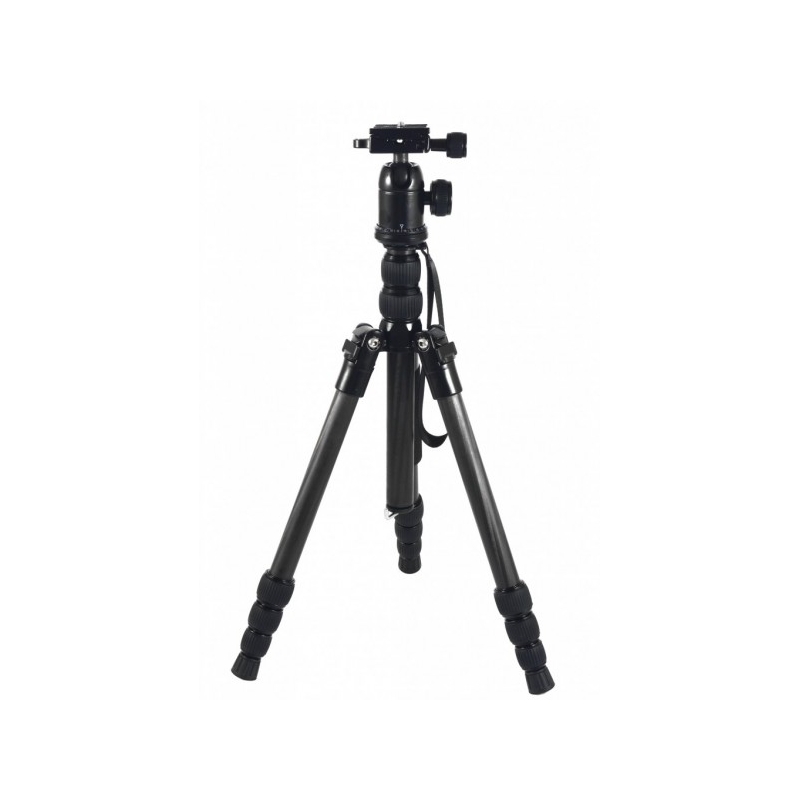  
BRAUN Carbon 150
High quality carbon tripod incl. ball head
Quick and safe PayPal payment

Free shipping for EUR 30+ orders (Germany)

International Shipping (EU)

Secure SSL data transmission
High quality carbon tripod +++ ball head with spirit level +++ tripod legs with 4 segments +++ max tripod height 145 cm +++ load capacity 8 kg +++ robust construction +++ low folding height and weight +++ padded tripod bag +++
What's special about the new carbon tripod: excellent stability, high resilience and a light weight!
Since its invention in 1955, carbon fibers are being used more and more frequently when it comes to cameras. More than ever, ambitious photographers rely on the sturdy and light material. Professional camera equipment with cameras and heavy lenses easily weigh multiple kilograms, which makes carbon tripods an easy choice.
Carbon tripods are multilayered epoxy resin laminations made from carbon webs. Carbon is considered the best material when it comes to tripod manufacturing.
Advantages of carbon tripods:
High firmness, resistant to fracturing and tearing

Lightweight

High stiffness

Damps vibrations

Looks classy
With the Carbon 150, Braun offers a solid tripod with a maximum height of 145 cm. Thanks to its quick lock clips at the legs, the tripod is ready to use in no time. Made of four segments, the legs are adjustable in height. Useful – the ball head with spirit level makes aligning the tripod on uneven surfaces incredibly easy. The hand loop makes carrying the tripod as well as fixating it to other equipment a comfortable experience. Included with the shipment is a padded tripod case.
Carbon 150:
Tripod legs with 4 sections and two-part center column for minimal folding height

Ball head with spirit level

Rotatable center column for macro shots

Lockable clips on the tripod legs

180° invertible legs

Foam grip

Hook for accessories and better stability

Material: carbon, aluminum

Rubber feet for best grip indoor and outdoor

Padded tripod bag

Weight 1.5 kg
Data sheet
Material

Aluminium

max. height

145 cm

min. height

52 cm

Weight

1190 g

EAN Code