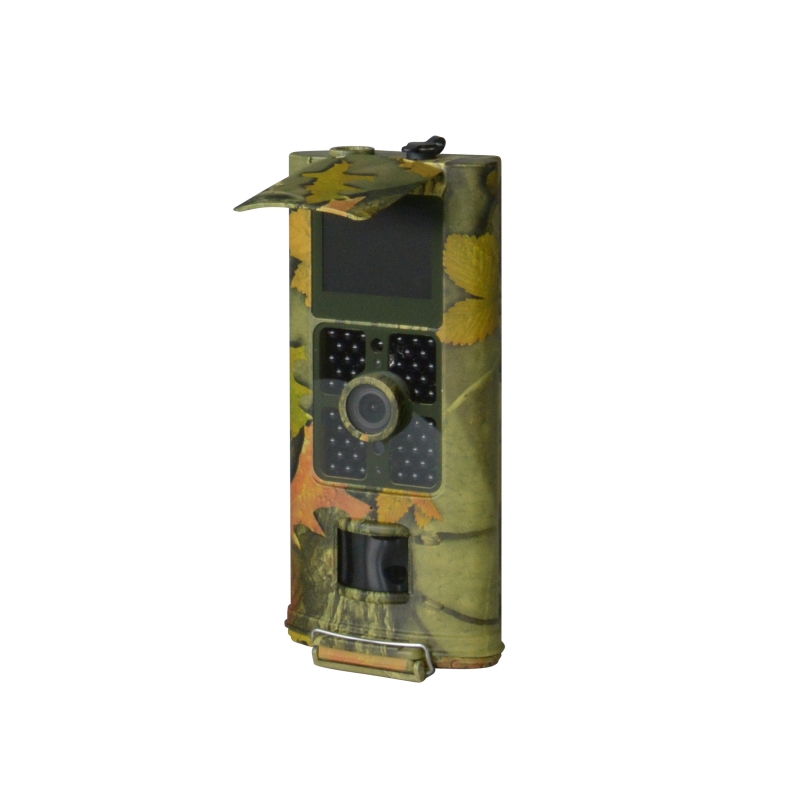  
BRAUN Scouting Cam Black700
Tax included
Delivery time depends on destination country
incl. VAT, excl. shipping
Hunting Camera in a Slim Design. A Scouting Cam that can be used for surveillance and phototrap, the ideal device for documenting game animals or other activities. The black LEDs and motion sensor allow image capturing at night as well, enabling continuous footage without being noticed.

With a power supply via batteries as well as a weather resistant housing, the camera can be left for up to 6 months in the outdoors, without needing to be serviced. The user display is protected by a cover flap, and can be locked with a password for more security. These properties make the camera perfect as a hunting camera, trail camera, photo trap or for simple surveillance.

(Inform yourself of any legal regulations in your area for data protection and rights of third parties before use.)

Quick and safe PayPal payment

Free shipping for EUR 50+ orders (Germany)

International Shipping (EU)

Secure SSL data transmission
BRAUN Photo Technik Presents Two New Scouting Cam BLACK700 Models
+++ For documenting spectacular pictures and videos in nature +++ Can be used as a trail cam for both day and night recordings +++

BRAUN PHOTO TECHNIK is expanding its product portfolio with the BRAUN SCOUTING CAM BLACK700 und BLACK700phone models.
BRAUN has been supplying quality products for photography since over 100 years. As a traditional company for optic devices and photographic accessories, BRAUN offers a series of high quality Trail Cameras. Their use is clearly defined as a Trail Cam/ Hunting Cam, and makes way for new possibilities for forest owners, rangers or others to observe and document activities in their woods or on their grounds.  Be advised that Protection Services must always regard the legal regulations in regards to data protection, as well as the rights of third parties.
BRAUN is offering the Scouting Cam BLACK700 and BLACK700phone in a sturdy casing and featuring a high-quality 5 Megapixel CMOS picture sensor, a PIR movement detector with a radius of 120°, as well as 48 black IR LEDs for night shots. The compact casing for the camera fulfills the IP54 standards. The camera is operated with a remote control via the 2.0" TFT display, which is covered with a flap. The display also serves to check the recorded pictures.  
Also included is a Software CD, with which all the MMS/SMTP settings on the camera can be adjusted easily on the PC (only for the BLACK700 phone). The settings can be saved on a micro SD card (only for the BLACK700 phone), which is then also used to store the recorded pictures and videos.
The technology of the BRAUN Scouting Cam Black700 cameras is based on a digital camera unit, which is housed in a weatherproof casing, and is activated by a movement sensor. The pictures/film sequences are saved on a micro SD card (up to 32 G). The BRAUN Scouting Cam Models BLACK700 and BLACK700phone have a standby time of about 6 months.  The built-in 5 MP sensor records very good color pictures. As soon as daylight fades, the 48 black infrared LED lights are activated to light up the scene. Technically speaking, this means that nighttime recordings are in black and white. The camera can be fixed to an object or tree with the included strap, or placed on a tripod.

Data sheet
Image Sensor

CMOS, 5 MP

Display Type

TFT-LCD

Display Size

2" (5.08 cm)

Lens

F 3.1 / FOV 90°

Interface

micro USB, micro SD, 9V DC

Resolution (Image)

16 / 12 / 8 MP

Resolution (Video)

1080p / 720p / VGA @ 30 fps

Triggering Interval

1 / 5 / 10 / 30 sec/min

Trigger Time

0.5 sec

Fix method

Belt, tripod

Exposure

automatic (optional ISO 100/200/400)

File Format (Pictures)

JPG

File Format (Video)

MOV

Operation Temperature

-20°C ~ +60°C

IR Filter

full Automatic

IR LEDs

48 black LEDs (Low Glow 850nm)

Password Security

4 digital numbers

max. Night Vision / Lighting Distance

20 m

Moon Phase

yes

Target recording time

1 sec — 24 h

PIR Sensor (angle of detection)

120°

PIR-Sensor (Sensitivity)

High/Middle/Low

Ccontinuous shooting

1 / 3 / 6 / 9 Pictures

Memory Medium

microSD (max. 32GB)

Stand-by time

approx. 6 months

Stand-by current

0.2 mA

Tripod Socket

1/4"

Power Supply

6x AA batteries or 9V 2A power adapter

Water & Dust Protection

IP65

Date and Time Imprint

yes

Measurements

175 x 85 x 45 mm

Weight

200 g

Video length

10/30/60/90 sec

Record audio

Yes (ON/OFF)

Temperature stamp

Yes

Laser pointer for alignment

Yes

Timelapse recording

5/30/60 min

EAN Code
You might also like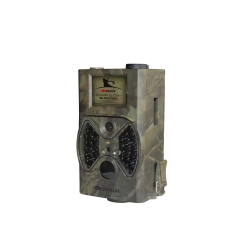 Regular price
€83.95
Price
€73.95
incl. VAT, excl. shipping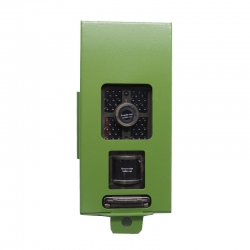 Regular price
€31.01
Price
€16.01
incl. VAT, excl. shipping