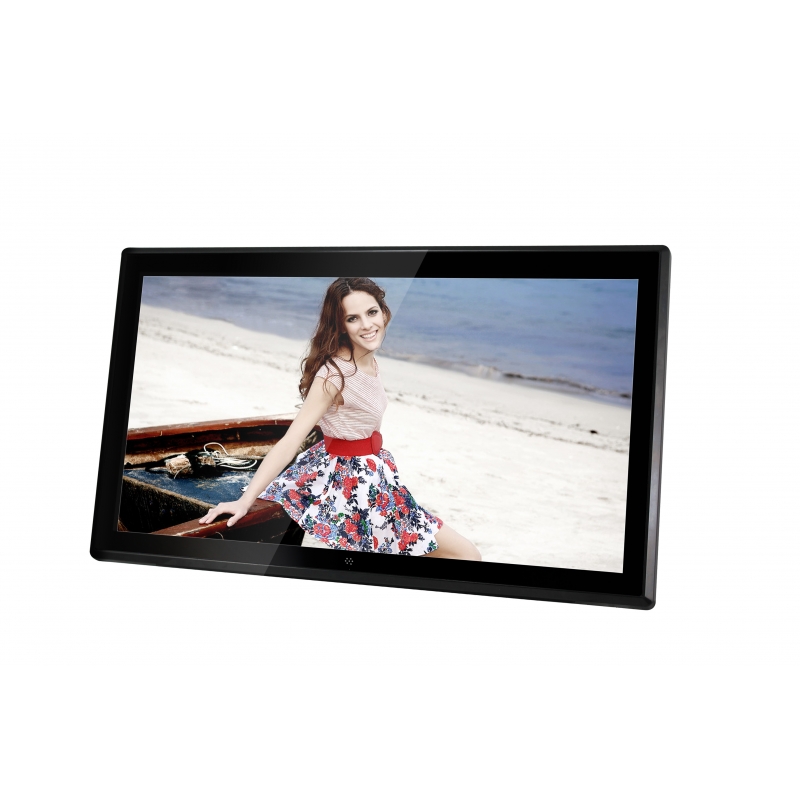  
BRAUN DigiFrame 1731 8GB
Tax included
Delivery time depends on destination country
incl. VAT + shipping
The claim to the best viewing angle, playback in luminous colors, impressive clarity as well as an independent internal storage with generous 8GB is fulfilled in our BRAUN DigiFrame 1731.
High quality digital picture frame with 8GB storage and high resolution Display, display size 43,94 cm (17.3"), 16:9, 1920 x 1080 pixel resolution, for presentation of digital pictures, film clips in Full HD (1080p) and MP3 music files.

Quick and safe PayPal payment

Free shipping for EUR 30+ orders (Germany)

International Shipping (EU)

Secure SSL data transmission

1€ per order to "Aktion Deutschland Hilft"
BRAUN DigiFrame 1731 8GB – High Quality Picture Frame with Full HD Resoluton & IPS Display

+++ 43,94 cm display diagonal+++ IPS Screen with LED backlighting +++ 1920 x 1080 px resolution  (16:9) +++ 8 GB internal storage+++ Plays Full HD Videos +++ Stereo Loudspeakers +++ VESA compatible +++ IR Remote Control +++ HDMI in +++
 
The DigiFrame 1731 8GB is a perfected upgrade of the successfully sold predecessor model 1730. With its faster chip, the frame easily shows high resolution 1080p videos on a luminous IPS display, similar to that of the forerunner model. The now 8GB internal storage is safely located in the elegant housing of this digital picture frame, Braun Phototechnik isn't compromising on requirements or design.  

Every holiday, every birthday, or simply the joy of photography or filming produces countless pictures and films which are often never viewed again. The new digital picture frame by Braun Phototechnik with its 17.3" (43,94 cm) display and high quality imaging skills, is the ideal device to revive memories in a simple way.  Whether it's through directly playing off an SD or USB Stick (max 32 GB), or via the HDMI connection—the Digiframe 1731 is always presentable thanks to its genius design. The matt black acryl housing with the slim framing fits into any room interior, and has convinced both photographers and designers with its IPS display on an LED background lighting, as well as its sophisticated technology. The viewing angle is unusually large, with a highly realistic color display that is pleasant to view, regardless from which angle or distance.
An almost 44 cm large color display in Full HD resolution of 1920 x 1080 (16:9) delivers rich, sharp and luminous images to the user.  The BRAUN DigiFrame 1731 8GB plays videos in Full HD resolution as well as music files in MP3 and WMA format, which are played on stereo loudspeakers with 2x2 Watts. For those would like to keep sound to themselves, the device offers a headphone jack. All important features can be controlled on the device, or more comfortably, with the IR remote control included in delivery.

Of high distinction is the 8GB internal storage, as well as the built-in card reader that reads all standard card formats such as SD, SDHC, MMC, MS as well as USB Sticks (max 32GB). The BRAUN DigiFrame 1731 8GB has programmable Auto-Start features, to automatically run Photo/Music/Video or Image and Music sequences as soon as the device is plugged in. The ON/OFF times are also programmable. User-friendly features such as various play effects or picture changing effects, turning pictures or zooming in, are what define the DigiFrame 1731. The approx. 500g heavy DigiFrame can be easily mounted onto a wall with the VESA mount. Size:  420 x 250 x 25 mm.

•    PC independent Digital Photo Frame with an elegant matte black design 
•    High quality digital 17.3" (49.94 cm) IPS screen with LED-Backlight technology,
•    Full HD Resolution 1920x1080 Pixels (16:9), Brightness 300 cd/m², Contrast 600:1
•    IR remote control and easy to use screen menu
•    8 GB internal memory
•    Supports for different types of memory cards: Secure Digital Card (SD + SDHC), Multi Media Card (MMC),
•    USB memory sticks
•    Picture file format: JPEG, BMP, GIF
•    Slide show mode with transitional styles and variable speeds
•    Thumbnail mode, zoom function, rotating photos, brightness, contrast, saturation control
•    HD Movie file format: RM/RMVB (1080p)  H.264 BP/MP/HP,  WMV,  MPEG-4 (Divx4.0,Divx5.0),MPEG1,
•    MPEG2,M-JPEG, Xvid and AVIPEG1/2/4, AVI, M-JPEG, MOV
•    Music file format: MP3, WMA, OGG, WAV, FLAC
•    VESA Standard 75x75mm
•    Image-display mode: slideshow, preview, zoom, rotate function
•    HDMI in
•    Clock/Calendar function
•    Programmable power on/off
•    Auto-on function when power on. Adjustable start up modes.
•    Built-in speaker (2x2W) 
•    Can be used in landscape and portrait format, can be mounted to a wall (VESA)
•    USB 2.0 and Mini-USB 2.0

Max. Picture quantity 9999 shots (recommend max. 6000)
Support USB/SD Card with max. 32GB capacity
Dimensions: approx. 420 x 250 x 25 mm    Weight: approx. 530 g
Power supply via AC/DC adaptor (100-240V / 50~60 Hz) 9 V / 1.5 A
Scope of delivery: DigiFrame 1731 8GB, remote control, power adaptor, USB cable, user's manual


Data sheet
Display Type

IPS

Display Size

17.3" (43.94 cm)

Color

black

Internal Memory

8 GB

Randomplay

Yes

Resolution (Image)

1920 x 10801920 x 1080 px

Resolution (Video)

1920 x 1080 px

File Format (Pictures)

JPG/JPEG, PNG, BMP

File Format (Video)

RM/RMVB (1080p) H.264 BP/MP/HP, WMV, MPEG-4 (Divx4.0,Divx5.0),MPEG1, MPEG2,M-JPEG, Xvid and AVIPEG1/2/4, AVI, M-JPEG, MOV

Slideshow function

Yes

Built-In Speakers

2x 2 W

HDMI (In)

yes

Brightness

300 cd/m2

Contrast Ratio

600:01

Landscape and Portrait Mode

yes

Aspect Ratio

16:9

Power Supply

100-240V / 50-60 Hz, 9V / 1,5A

Clock/Calender Function

yes

USB port

Mini-USB / USB 2.0

VESA Compatibility (Mounts)

VESA 75 x 75

Measurements

420 x 250 x 25 mm

Weight

530 g

Scope of Delivery

DigiFrame, remote control, power adapter, manual

EAN Code

4000567212485

Video function

Yes

IPS Display

Yes

HDMI

Yes

VESA

Yes

Display Format

Landscape
Portrait

Internal memory

Yes

POS suitable

Yes

Display format

16:9