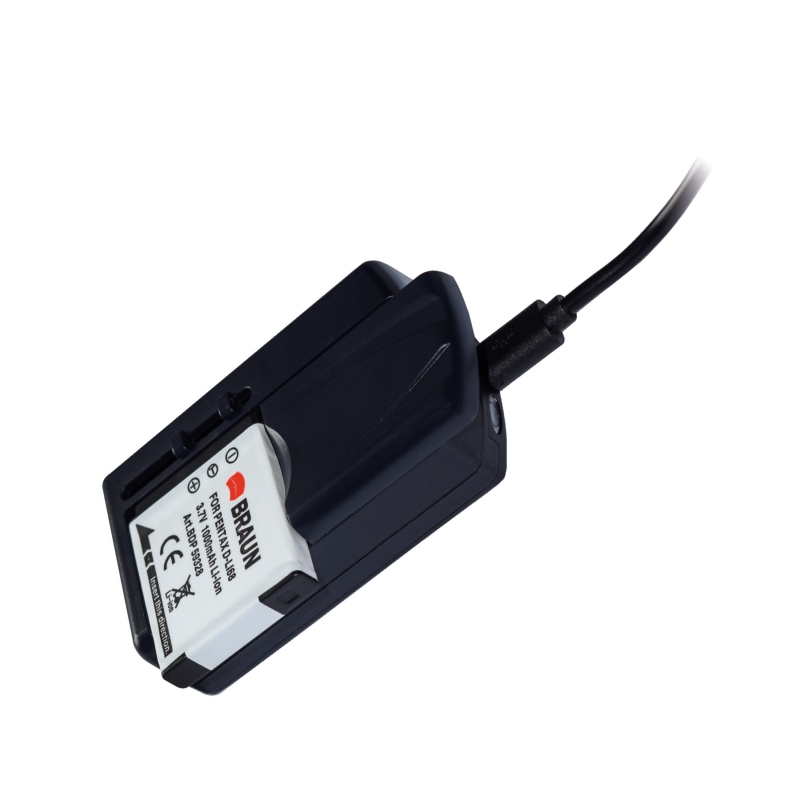  
BRAUN USB charger DS 7.2
Tax included
Delivery time depends on destination country
incl. VAT, excl. shipping
Compact, small and handy USB universal charger for Li-Ion and Li-Polymer batters from 7.2 V to 8.4 V.

With its slight weight of only 45 g and small size of 80 x 47 x 25 mm, the BRAUN USB Charger 7.2 is a helpful energy supply that hardly takes up space.

Quick and safe PayPal payment

Free shipping for EUR 50+ orders (Germany)

International Shipping (EU)

Secure SSL data transmission
A New Power Supply in a Compact Design


BRAUN Photo Technik presents universal charger "USB Charger DS 7.2" for camera batteries.

It's highly practical to not have to take along a charger for each battery-powered device such as cameras, action cameras or camcorders when on trips. While almost all smartphone and tables are charged via their own USB port, most camera models use removable batteries as a power supply. This is why the Photo-expert BRAUN Photo Technik have enhanced their assortment with a universal camera battery charger to include the new model BRAUN USB Charger DS 7.2. This is a compact USB universal charger with a voltage of 7.2 V — 8.4 V.

Lightweight, small and handy—with its mere weight of 45g and small measurements of only 80 x 47 x 25 mm, the BRAUN USB Charger is a helpful energy device that takes up hardly any space. To charge the empty camera batter, simply fix the moveable port in the BRAUN USB Charger. The contacts are flexible and can be adjust to match whichever battery needs to be charged.

With the Micro-USB cable included in delivery, the charger is hooked up to a power supply via USB (PC, Tablet, Powerbank, USB plug, etc.) and charged immediately. The charging times vary according to battery performance, varying between 70 minutes and 3.5 hours. Both a German and English user manual are included in delivery, along with a USB cable and the charger.

Data sheet
charging time





Measurements (approx.)

80 x 47 x 25 mm

Weight (approx.)

45 g

Scope of Delivery

USB charger, micro USB connector cable, Instruction Manual

EAN Code