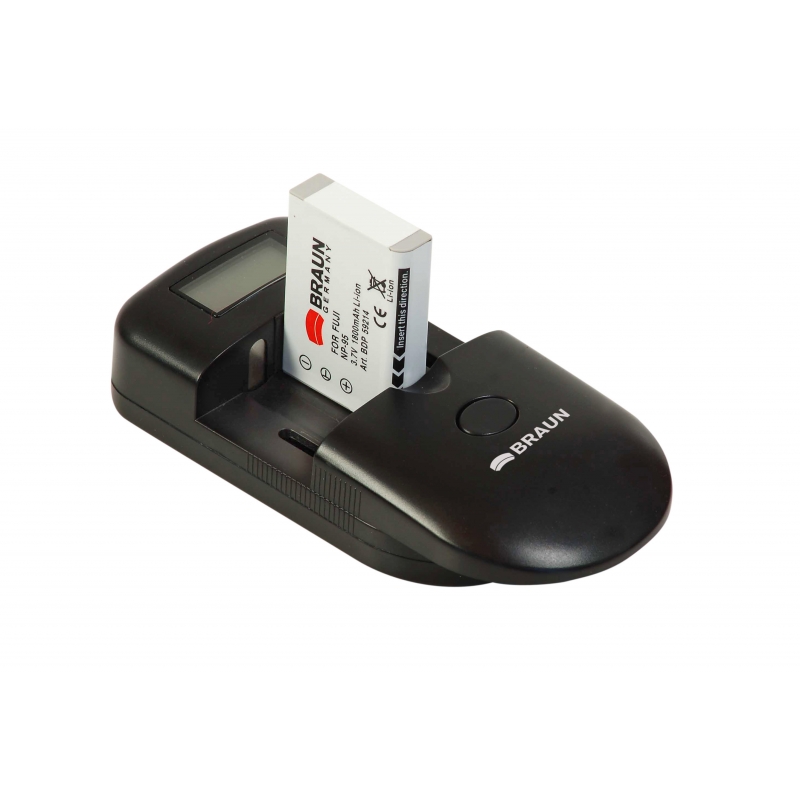  
BRAUN Universal Charger 1-For-All Switch
Tax included
Delivery time depends on destination country
incl. VAT, excl. shipping
BRAUN 1-for-ALL-Switch universal charger with LCD display for AA/AAA, Li-ion and NiMH/NiCd batteries

Quick and safe PayPal payment

Free shipping for EUR 50+ orders (Germany)

International Shipping (EU)

Secure SSL data transmission
BRAUN 1-for-ALL-Switch universal charger with LCD display for AA/AAA, Li-ion and NiMH/NiCd batteries
Simply plug the device into the wall socket, car USB adapter or PC USB port to charge Li-ion and NiMH/NiCd batteries or mobile phones and MP3 and MP4-players. 
The BRAUN 1-for-ALL-Multi universal charger is equipped with over-voltage, short-circuit and over-time protections. It detects defective batteries, battery type and their poles to ensure it's being charged swiftly, fully and safe.
Deep discharged Li-ion batteries can be brought back to life with the nifty battery activation function.
The light weight charger fits into every purse and camera bag.
Scope of delivery: charger, 1200mA power adapter, 12V car cigarette lighter adapter and instructions.

Data sheet
Display

LCD display for charge status

Measurements

117 x 30 x 67 mm

Weight

80

Output rating

Li-ion : 3.6 - 3.7V / 900mA max. ; 7.2 - 7.4V / 900mA max.
NiMh/NiCd : 2 x 1.4V : 800mA max. ; 9V : 100mA max.
USB : 5.3V : 600mA max.

Defective battery detection

Yes

Betriebsspannung

100 - 240 V line voltage / 12V DC 800mA car adapter

EAN Code