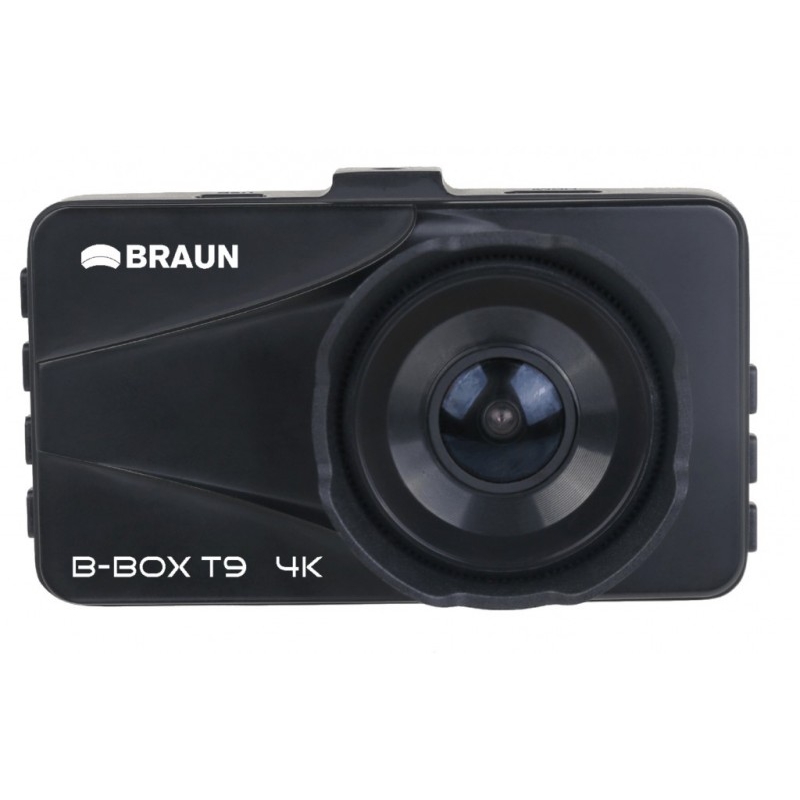  
BRAUN B-BOX T9 Dashcam
incl. VAT + shipping
Tax included
Delivery time depends on destination country
High Performance 4K/30fps resolution (3840x2160p), 3" (7.62 cm) LCD, Real Glass Lens (6G), Motion Detection, Super Night Vision, Ultralit 160° Wide Angle Lens, HDR, seamless recording.
Quick and safe PayPal payment

Free shipping for EUR 30+ orders (Germany)

International Shipping (EU)

Secure SSL data transmission
4k/30fps resolution +++ 160° ULTRALIT wide angle lens +++ glass lens (6G) +++ 3D G sensor +++ super night vision +++ HDR +++ Loop recording +++ seamless recording possible +++

Everyone knows highly charged situations during traffic. In case of a collision without any witnesses it often results in statement versus statement. In those situations a dash cam attached to the own windshield can provide valuable proof and unburden you. Even the tiniest detail can prove crucial to reviewing the course of events, which is why a high image quality and resolution are so important for later trials.
The new BRAUN B-Box T9 4K delivers crystal clear recordings up to a resolution of 3840 x 2160 Pixels at 30 frames per second. That way, number plates and traffic signs are always easy to identify. Full HD videos at 60fps are also possible.
Thanks to the excellent BRAUN ULTRALIT 6G objective lens with a 160° wide angle, the BRAUN B-Box T9 4K always sees the whole picture in every traffic situation. To precisely adjust the camera and control the video recordings, the B-Box T9 has a 3" display on its backside. For recordings during traffic, the camera uses "loop recording", this overwrites all recordings after a manually adjustable time frame. The integrated acceleration sensor makes sure that the B-Box T9 automatically saves the clip after a full application of the brakes or a crash has occurred. To ensure that everything works as intended, the G sensor is adjustable. The recordings themselves are write-protected. The BRAUN B-Box T9 4k also has a "parking mode" which switches the device to stand-by when the motor is turned off. When the motor is started again, its vibrations cause the camera to reactivate and record the road again. To compensate for possibly bad lighting conditions, the B-Box T9 4K is equipped with a night vision function and automatically switches between day and night mode depending on the situation. Besides MP4 videos, the BRAUN B-Box T9 4K also takes photos with up to 16 mega pixels and saves them onto an external SD card. The camera weighs about 98 grams and also has a USB port.
Data sheet
Image Sensor

OV4689 (4MP)

CPU

Allwinner S3

Lens

Ultralit 6G, 160° Weitwinkel

Resolution (Image)

16 M

Resolution (Video)

4K (3840 x 2160 p)

Wi-Fi

no

EAN Code