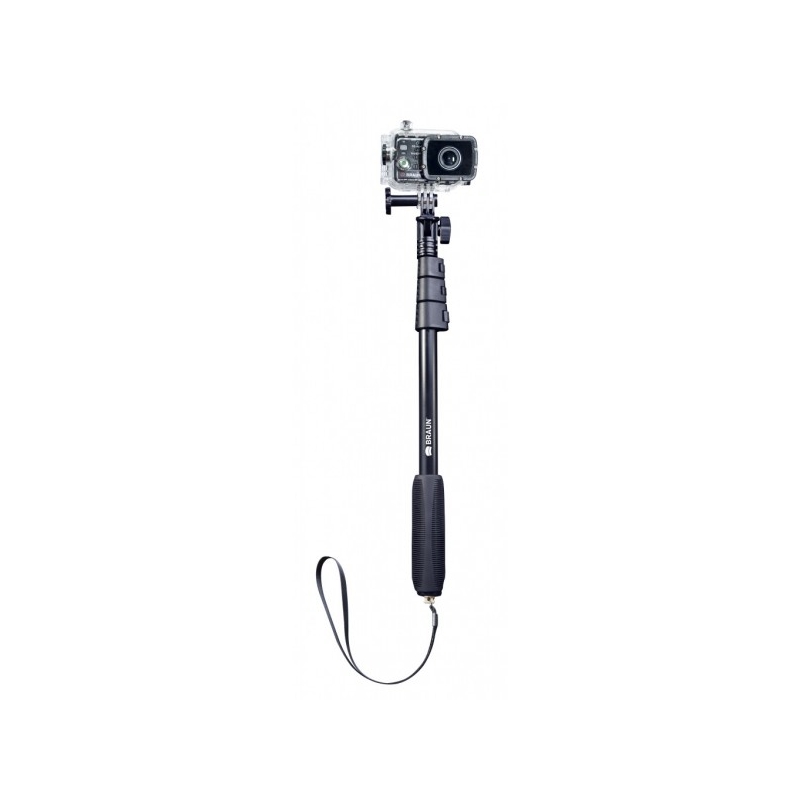  
BRAUN Selfie Stick Underwater
Tax included
Delivery time depends on destination country
incl. VAT, excl. shipping
Can be used for selfies, video filming and photography, suitable for action cams, cameras and smartphones weighting up to 2 kg. For underwater use (freshwater and saltwater).

Quick and safe PayPal payment

Free shipping for EUR 50+ orders (Germany)

International Shipping (EU)

Secure SSL data transmission
The new hand monopod is perfect for underwater shots in freshwater and salt water
Hand monopod made of aluminium +++ maximum monopod length 122cm +++ maximum load capacity 2kg +++ suitable for freshwater and salt water +++ lightweight aluminium construction +++ pack size 44cm +++
With the Selfie Stick Underwater, BRAUN Photo Technik GmbH follows the trend of the growing community of action cam and selfie fans. A special feature of this new product is the ability to use it underwater, while it's raining and at high humidity. You can use it in any waters, no matter whether it's a pool, a lake or the ocean.
The BRAUN Selfie Stick Underwater serves as an arm extension, which makes it possible to take shots from a certain distance or height. Examples are underwater recordings of fish, a seabed as well as just taking selfies or filming from above. The Selfie Stick Underwater was developed specifically for the aquatic and subaquatic use of action cameras.
Braun supplies the 250 gram lightweight stick made from high quality aluminium in the color black. The stick's range is between 44 cm and 122 cm and the tube can be adjusted to different lengths for a variety of shot perspectives. The stick consists of four segments and includes the following accessories: a camera adapter head, an action cam adapter, a smartphone holder and a hand loop.

Data sheet
Color

black

Material

Aluminium

max. height

122 cm

min. height

44 cm

Profil

max 34 mm / min. 28 mm

Sections

3

Load capacity

2.0 kg

Pack size

44 cm

Weight

250 g

EAN Code