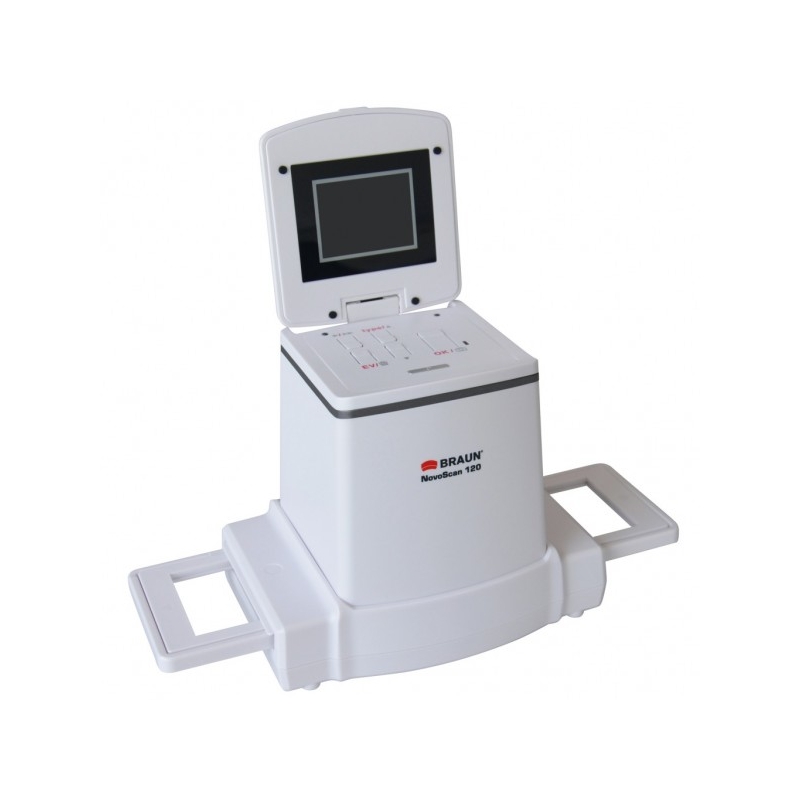  
BRAUN NovoScan 120
incl. 19% VAT + shipping
Tax included
Delivery time depends on destination country
With the new BRAUN NovoScan 120 it is now possible to quickly and easily scan your medium format images and transfer onto an SD card.
The BRAUN NovoScan 120 is a stand-alone device (no PC needed) and thus can be used anytime anywhere (power connection required).

The scanner has a built-in 14 megapixel sensor and saves your files as JPEG images to an SD card.
Included with the shipment is a film holder that can hold the medium formats 6x4.5, 6x6, 6x7, 6x8 and 6x9. Scan medium formats fast and easy! How? – With the NovoScan 120 by BRAUN!
Quick and safe PayPal payment

Free shipping for EUR 100+ orders (Germany)

International Shipping (EU)

Secure SSL data transmission
+++ 2.4 TFT LCD colour display for preview and check +++ USB 2.0 port +++ SD card slot up to 32 GB +++ formats: 6x4.5, 6x6, 6x7, 6x8, 6x9 +++ scan speed: 1 second +++ TV outlet
How can I bring my slides and negatives in the attic, cellar or in drawers to "new life" in an easy, fast and inexpensive way? BRAUN, the number one specialist for digitising analogue data in the South of Germany, has offered efficient solutions with its successful "NovoScan" family for quite a few years. With the Novoscan 120, BRAUN now offers yet another new model in this series.
The new NovoScan 120 allows you to scan medium format photos in a fast and comfortable way and to save them to an SD card right away. The NovoScan 120 is a "stand-alone unit" which means that you do not need a PC for its operation. You can digitise your medium format photos wherever and whenever you want to. All you need is power supply. 
The NovoScan 120 features a 14 megapixel sensor and saves the files in the JPEG format to an SD card. The holder included in the delivery fits the wide-spread medium formats of 6x4.5, 6x6, 6x7, 6x8, and 6x9. You can scan medium format positives, coloured negatives and black&white photos with a resolution of up to 14 megapixels.
The integrated 2.4" TFT LCD colour display can be used for a helpful preview and check, but also for slideshows. The card slot is compatible with SD / SDHC cards up to 32 GB. You can view the saved images on your TV set via the USB port (no live image). Scan speed is only one second. The NovoScan 120 weighs only 600 g and the concise dimensions of the compact unit are only 173 x 127 x 156 mm (L x W x H).
The scope of delivery of the BRAUN NovoScan 120 includes the following parts: NovoScan 120, medium format holder for 6x4.5, 6x6, 6x7, 6x8, 6x9 for a max. of 4 x 6x6 photos, USB cable, cleaning brush, image editing software "ArcSoft Media Impression 2" as well as Quick Start and user instructions.