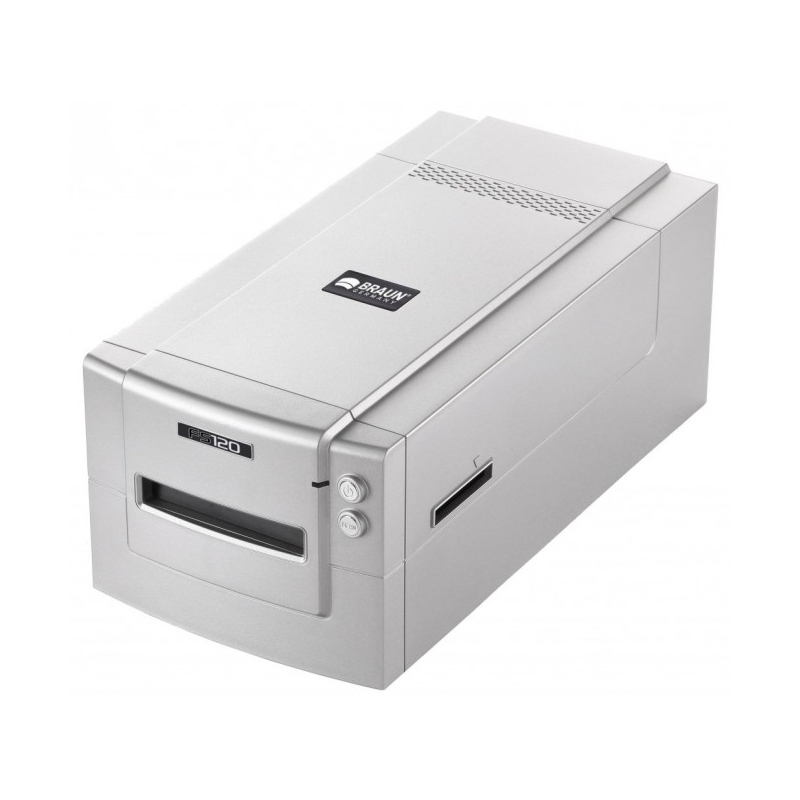  
BRAUN Mediumformat Scanner FS120 + SilverFast Ai Studio 8 + IT8-Target
incl. 19% VAT + shipping
Tax included
Delivery time depends on destination country
With the first BRAUN Mediumformat Scanner FS120 it is possible to scan film type 120/220, 6x4,5, 6x6, 6x7, 6x8, 6x9, 6x12 (Positive and Negative) as well as 35mm.

Due to the application of 3-line-CCD Sensor with Magic-Touch (automatic dust and scratch removal with infrared sensor) you can expect excellent quality.

SilverFast Ai Studio 8 Scansoftware included!
Quick and safe PayPal payment

Free shipping for EUR 100+ orders (Germany)

International Shipping (EU)

Secure SSL data transmission
Filmtype: negative and positive as stripes (35mm) or slides (5x5cm), 6x4,5 cm, 6x6 cm, 6x7 cm, 6x8 cm, 6x9 cm, 6x12 cm
Optical resolution: 3200 dpi
Scannig speed: 3200 dpi, 24 Bit = apporx. 200 Sec.
Colour depth: 48 Bit
Contrast: >3,6 Dmax
Image sensor: 3-line-CCD-Sensor
Lamp: whit LEDs and infrared LEDs
Scanning area min./max.: 24,3 x 36,5 mm / 55 x 140 mm
PC interface: USB 2.0
MAGIC TOUCH Technology
Accessory: slideholder for 4 framed slides up to 3,2 mm thickness, filmholder for filmstripes with up to 6 picture, 1x medium format holder for 1-2 medium format films(negative and positive) 6x4,5 cm / 1-2 6x6 cm / 1 6x7 cm,/ 6x8 cm / 6x9 cm/6x12 cm , Adapter, USB-Cable, manual.


Scan Software: Cyberview X


Scan Software: SilverFast Ai Studio 8

SilverFast Ai Studio includes all of the well-known functions of SilverFast Ai plus many new, innovative tools. These new functions of SilverFast Ai Studio offer an even higher degree of efficiency for image optimization. Multi-sampling now includes auto-alignment, enabling this feature even on scanners without hardware-based support. AACO allows the user to extract maximum detail from shadow areas, without compromising highlights. This has become an an invaluable tool, especially when working with scanners offering limited dynamic range. These two tools combined can increase the usable dynamic range of almost any scanner on the market today.


System requirements:

MAC: OS X 10.5+ CPU: Intel Core 2 Duo, Speed 1.8 GHz Memory/RAM: 1 GB, 667MHz, DDR 2 SDRAM
PC: Windows XP, Vista, 7, 8, 10 (32 u. 64 Bit) CPU: Intel P4 2 GHz or higher RAM: 1 GB minimum Hard disk free space: min. 10 GB
Data sheet
Image Sensor

CCD

Colordepth

48 Bit

Optical Resolution

3200 dpi

Measurements

400 x 205 x 170 mm

Weight

5300 g